WorkElections Q&A
What is WorkElections.org?
WorkElections.org, a nonpartisan, non-profit project of Fair Elections Center, collects and centralizes poll worker requirements and links to applications for thousands of jurisdictions across the country. The site provides simplified information for prospective poll workers who may not know where or how to apply.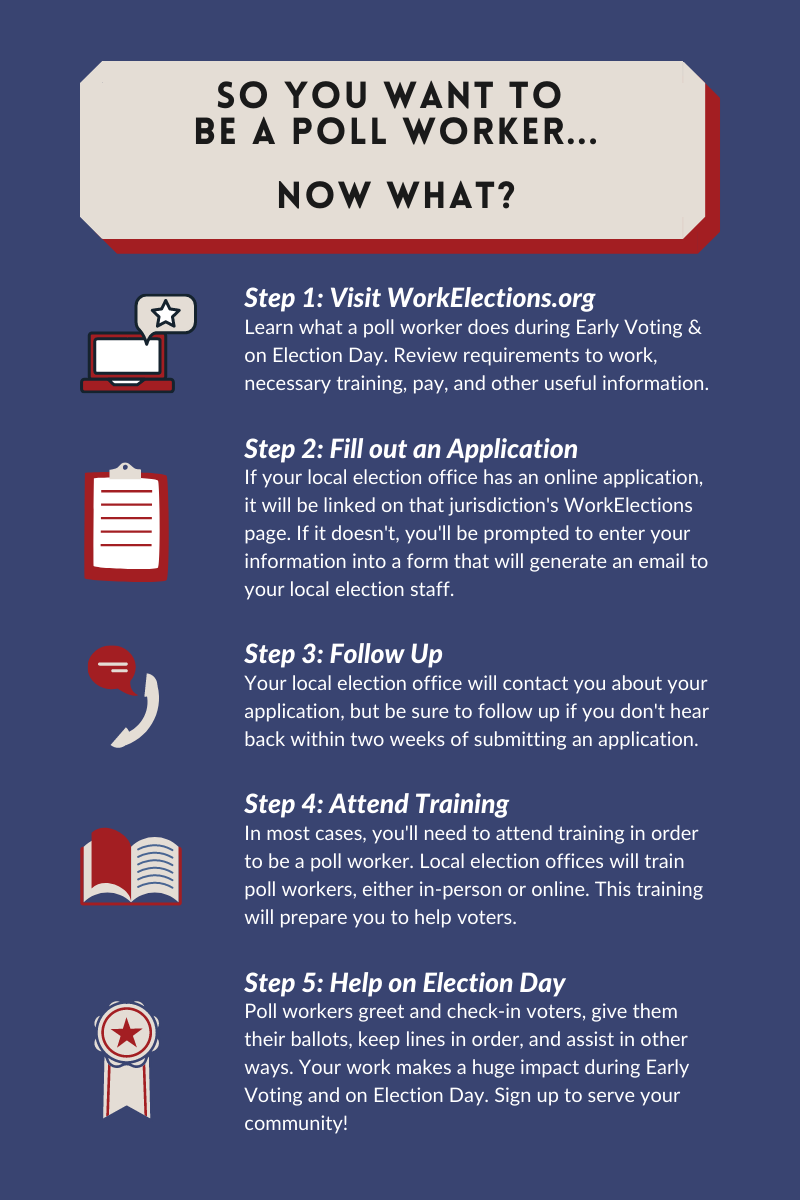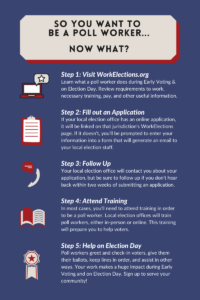 Why is WorkElections.org needed?
Many election officials struggle to recruit sufficient numbers of poll workers with the technological and language skills necessary to staff polling places during early voting or on Election Day. Additionally, many people who would make great poll workers don't know how to apply or what helping on Election Day entails. The website makes it easy for these individuals to find the information they need quickly and connects them directly with local election officials.
What does a poll worker do, either during early voting or on Election Day?
Tasks may vary, but generally, poll workers prepare the polling place and voting machines, greet and check-in voters, issue ballots, ensure order in the lines, and assist voters as needed, among other tasks. Training is available (and often required) to prepare poll workers for their responsibilities.
Why should I use WorkElections.org rather than the information from my local elections office or secretary of state?
Many local and state election officials have helpful online resources for poll workers, but WorkElections compiles online information on thousands of jurisdictions and adds information such as hours, compensation, and other requirements that may not appear online. The website directly links to local or state application forms and information web pages. To ensure the information we offer is as accurate as possible, we have contacted thousands of election officials ourselves.
I found information about being a poll worker in my community. Now what?
If your local jurisdiction or state has an online application or a printable application, we include it on the site so that you can apply directly. If an application isn't available, the site provides contact information for your local election officials so that you can call or email them to express interest in serving as a poll worker.
I'm a local elections official who would like to update my jurisdiction's information or add my jurisdiction to the site. What should I do?
Please email us at info@fairelectionscenter.org.